Ride the City Bike Map App
Ride the City: Find the Safest, Speediest Bike Routes
Longer days and better weather mean one thing: bike season! Time to bust out those two-wheelers and take advantage of the beaming sunshine. The only thing standing in your way is figuring out which route to take.
Safety should be a cyclist's number-one priority — public streets cause dangerous encounters between cars and bikes. Ride the City is a web (free), iPhone ($2), and Android app ($2) that helps velos locate the safest, speediest routes around town.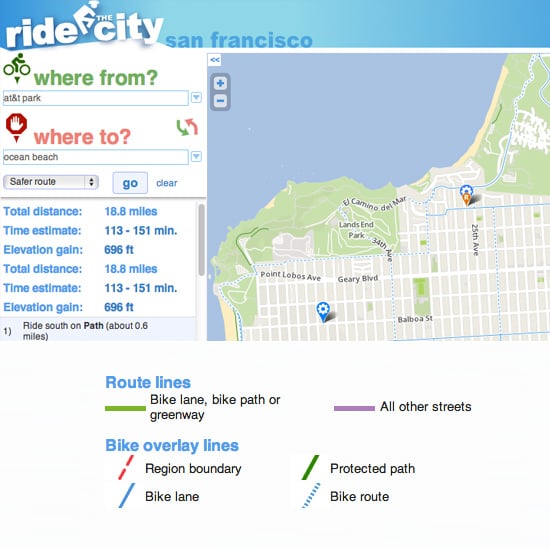 Enter in point A and point B, choose between the "safer," "safe," and most "direct" option, and Ride the City will calculate total distance, time, and elevation gain. It'll also show bike shops and bike share pick-up/drop-off locations along the way.
Our favorite feature is the map's color-coded bike lanes: green designates bike lane, path, or greenway, and purple denotes all other streets along your route. The map will show you bike routes, lanes, and protected paths without a starting point and destination as well. It's a great reference while you're figuring out your way on the road.
Ride the City has 39 cities all over the world fully mapped, so pull your bike out of the shed and get cycling!