The Rooster Alarm on the Droid Makes Me Crazy
He's a Droid; I'm an iPhone: Change the Alarm or It's Over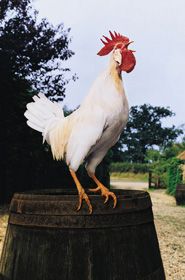 If you have a Droid, you might be familiar with the rooster alarm tone. And if you're not familiar with it, imagine the most annoying high-pitched rooster sound imaginable playing loudly over and over and over. It's just the latest chapter in the saga of his Droid vs. my iPhone, but this particular battle literally jolts me out of bed in the morning.
At first look, the Droid has some great alarm features. For one, its stand/charger keeps the phone at a nice angle for an alarm clock. The actual numbers on the clock are big enough to see at a distance. And my favorite feature: when you set the alarm, it displays the amount of time remaining until it'll go off, making it easy to see when you've accidentally set it to ring at 7 p.m. instead of 7 a.m.
What I don't like? The selection of alarms, especially the one my guy has chosen to use at 7 a.m. each morning. Find out how we've come to an alarm compromise when you
.
While no sound is really appealing that early in the morning, that rooster drives me out of my mind. My alarm tone of choice is the iPhone's "bell tower" chime, which I wouldn't call relaxing (what alarm is relaxing?) but it's not as jarring as the rooster. In our opinion, the ringtone selection is much better on the iPhone than it is on the Droid. After playing all six of the annoying preloaded Droid alarm options, we deemed the default alarm ringtone the least offensive, but the noise is still pretty intense and I find myself waking up minutes before the alarm goes off feeling anxious.
He makes the argument that the Droid's alarm at least gets me out of bed in the morning, as I have a pretty serious snooze-button habit. True, but at the cost of my sanity. For now, I'll stick to waking myself up with my iPhone's alarm five minutes before that rooster starts crowing — those extra minutes will at least give me a running start out of cock-a-doodle-do earshot!