Rosetta Stone Learn Japanese Review
My New Year's Resolution: Learn a New Language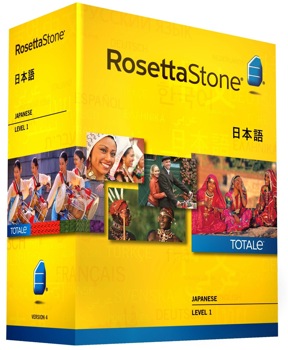 I've caught the travel bug. But instead of relying on Word Lens or Google Goggles (both awesome apps) for my translation needs in different countries, I've decided to learn a new language. So I was pretty stoked when Rosetta Stone sent me the brand-new Learn Japanese Level 1 ($209) program. I've been wanting to take a trip back since my last excursion, so now is the perfect time to incentivize myself.
The software works with both Mac and PCs, and allows you to work at your own pace while you build basic language skills. An awesome feature that I really appreciate is the MP3 companion so I can freshen up on my skills while I'm commuting, and some delightful games to help me with my recognition. I think it brings a good combination of visual and auditory learning, and I can't wait to complete the program and tell you more about it. Volume 2 is pretty pricey, but hey, learning a new language is good for my brain wrinkles, right?
Got any New Year's resolutions of your own? Post them in the comments!