Rosie the Robot Picture
Space Dust, Robots, and More Geek Tweets of the Week
This week in the Twitterverse, director J.J. Abrams reminds us of how much we loved Rosie Jetson, and Mars Curiosity rover Flight Director Bobak Ferdowsi gawks at the star cluster Seven Sisters. See J.J., Bobak, and more of our favorite geeks in this week's top tweets.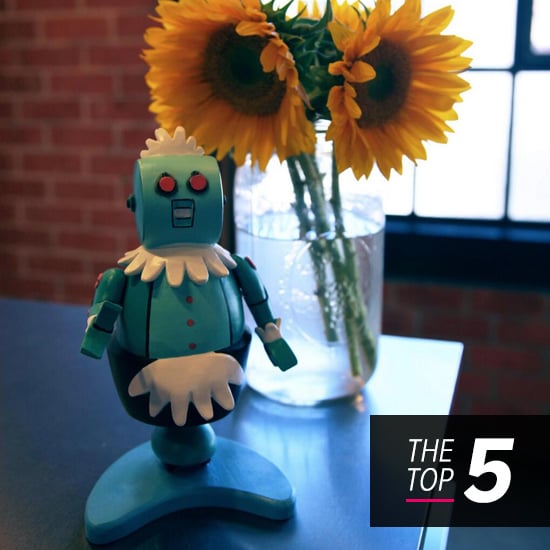 Curiosity rover Flight Director Bobak Ferdowsi shared NASA's astronomy picture of the day. It was of the star cluster inside the constellation Taurus, nicknamed the Seven Sisters because its brightest stars are named after the seven sisters of Greek mythology.
Dust in home, bad. Dust in space, pretty. Pleiades, via @apod. http://t.co/hJlUN6h9Mb pic.twitter.com/FzGwFEmDEo

— Bobak Ferdowsi (@tweetsoutloud) September 18, 2013
The bromance between X-Men actors Patrick Stewart and Ian McKellen, who are both starring on Broadway in the play No Man's Land and Waiting For Godot, just keeps getting better and better.
Rubbish! #gogodididonyc @TwoPlaysInRep pic.twitter.com/KWKY1PhHRB

— Patrick Stewart (@SirPatStew) September 19, 2013
Is Geek and Sundry's Felicia Day leaving Cubby Day behind? Also, Felicia's Pac-Man necklace is off the chain.
My new pet. https://t.co/RVddX3qvqw

— Felicia Day (@feliciaday) September 14, 2013
The Star Wars Craft Book author Bonnie Burton has become our go-to source for all things Benedict.
Always! RT @StarTrekMovie: Have I got your attention now? pic.twitter.com/pOgaJTCwos #StarTrek

— Bonnie Burton (@bonniegrrl) September 15, 2013
Technology has come a long way since The Jetsons first premiered in 1962, but we still don't have Rosie, who's living part-time at director J.J. Abrams's Bad Robot Productions.
Look who we found amongst our collection of robots - XB-500, a.k.a. Rosie #FoundAtBR #TheJetsons pic.twitter.com/9aMw6KWKGa

— Bad Robot (@bad_robot) September 18, 2013