The Rules of Facebook Friending
Tech Dating 101: I Friended My Sister's Guy . . . Before We Actually Met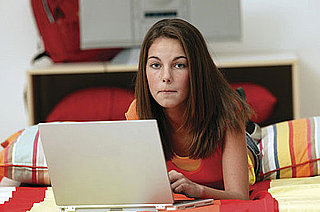 It happens — we've all probably, at one point or another, (unwittingly) decided to jump into a friendship online. Sometimes we're overly excited after we meet a new friend or a cute guy, and for the most part the quickie friending zap has only momentary consequences. We're a little embarrassed maybe, but no residual damage. Well, that's usually the case, but a friend of mine who friended on the fly took a bigger hit.
Anticipating a trip to visit her sister and her sister's new BF, my pal got a little excited and looked up her sister's new guy on Facebook. They'd been dating only about three months at this point, but the whole fam was about to meet him face to face, so she figured she'd start the introductions early and sent him a friend request. In actuality, this wasn't the major offense; the big deal was that her boyfriend, who would be joining my friend's family visit, decided to jump on the bandwagon and friend the new guy as well. A day later my friend got a call from her sis, confronting her about the friending frenzy, and informing her that the whole thing had really freaked out the new boyfriend.
I'd be a little weirded out too. See why after the jump.
In this case, I actually don't think it's that big a deal that my friend wanted to be her sister's boyfriend's friend on Facebook. While I wouldn't necessarily jump on it after only three months of their dating, I think the bigger deal is that my friend's boyfriend also friended the guy. This is a little bizarre because, well, for one, when this guy got the friend request, he had to wonder, "Who is this rando?" At least when sisters friend each others' significant others, they share the same last name, so the request doesn't seem so strange — there's an obvious connection.
But, in the case of siblings' significant others friending other significant others, I say, let the friending take place in person. It turns out my friend's guy was just trying to feel like a part of the family (and they have actually been dating for a few years). But just because he's comfortable with the whole family dynamic, doesn't mean that this new guy is or that he will be, three months in. Secondly, if you want to facilitate some kind of introduction before you meet in person, send the guy an email, or send him a friendship request with a casual message — to actually explain who you are. Because, when it comes down to it, you can bet it was an awkward first meeting for these two guys (especially the friender), pretending to meet for the first time when in reality, they'd had access to each others' profiles for a good month beforehand.