Rumored Samsung Tablet With Keyboard
Is a Tablet With a Slide-Out Keyboard Really a Tablet?
Rumor has it that there's a new Windows 7 tablet on the way with a feature that distinguishes it from every other tablet that's currently on the market — a slide-out physical keyboard. Engadget created a mockup of what the device might look like, given some sketchy details. Besides getting over the fact that to me it looks like a giant cell phone, this seems like it could be a bit logistically challenging.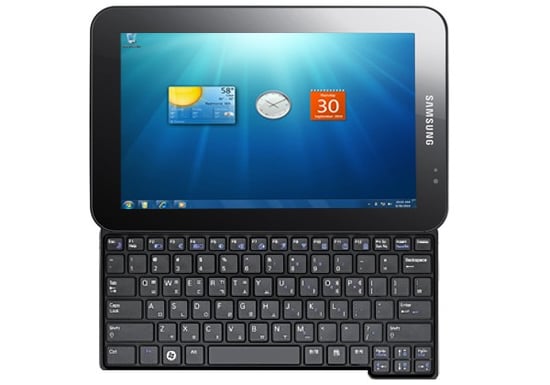 Find out what I think, and share your thoughts, after the break.
First, say the new device is as big as an iPad. How do you manage to type on it? Prop it up? Does it fold into a netbook-like shape? Because then I'd call it a netbook with a touchscreen. And, in a market that's shifting away from physical keyboards, would one on a tablet be too clunky? Can you type with your thumbs or does it require two full hands at all times?
If such a gadget does exist, expect a March or April release, according to rumors.