Ryan Gosling Chrome Extension
Hey, Girl: Install This Ryan Gosling App Because Why Not, Right?
A Ryan Gosling bookmarklet and browser extension for Chrome has hit the web — and we're all for it. Because, well, "It wasn't over. It still isn't over."
In the right place, at the right time, replacing the Internet with this candy of man is totally and completely necessary.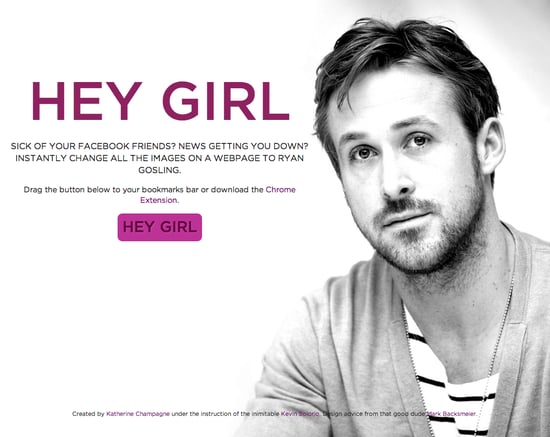 One click of the extension or the bookmarklet and — hey, girl! — all the pictures on that webpage automagically turn into a sultry Gosling snap. There's I'm a Moose Ryan, Geek Glasses Ryan, Winking Ryan, Suit and Tie Ryan, Rachel McAdams Making Out With Ryan, and many more Ryan photos to invade your Interwebs.
To install, click "Add to Chrome" from the Chrome Web Store or drag this Hey Girl button to your bookmark bar.
Whether it's those earnest, slightly tender eyes; those upturned eyebrows; that disheveled scruff; that soft-spoken, slurred speech; or those outrageous abdominals that fill your insides with warm fuzzies, sometimes you just gotta have Gosling.