SCVNGR Rewards Program
SCVNGR Launching Hot New Rewards Program Tomorrow
There are already a few location-based apps that will allow you to earn real-world rewards just by checking in, and now Google-backed SCVNGR is getting in on the rewards action as well. I know what you may be thinking — my list of check-in apps is already too long! Do I really need another? The short answer? Yes.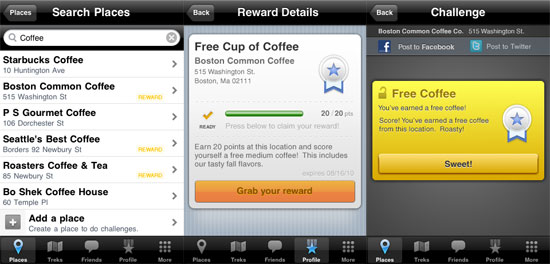 In fact, SCVNGR's new rewards program may trump all the others; over 1,000 retailers and locations will be offering up tangible rewards at launch, and the company will eventually roll out a DIY rewards program for any business to create its own challenges and rewards for its customers to complete and cash in on.
Want to know how it works? Then keep reading.
First off, SCVNGR can be used to complete challenges in rewards locations. Each business will delegate the tasks that are available and how many points it will take to get a reward. Let's say that Peet's Coffee is offering up a free cuppa Joe if you rack up 35 points. In order to do this, you can complete a challenge — like checking in 10 times, or snapping a pic of you and your daily coffee — then all you have to do is show your completed reward to the barista and you get your free coffee! Great way to start the morning, right?
One launch partner in particular is Journeys, who will be offering up a $10 discount if you complete one of its six-second challenges inside the store to accrue the 35 points it takes to earn the reward. Seems like easy money to me. As I mentioned above, these rewards and challenges will be available for any business to build soon, which makes SCVNGR the app to watch, and is sure to become your wallet's best friend.