Sally Ride Facts
Remembering Sally Ride, America's First Woman in Space
On this day 30 years ago — June 18, 1983 — Sally Ride became the first American women in space, as part of the space shuttle Challenger mission. She was one of six women selected to NASA's 1978 astronaut class of 35 total people, a hugely different female to male ratio than we saw this week with NASA's 2013 group of astronaut candidates, which was half women. After traveling to space during the Challenger mission in 1983 and again in 1984, Sally became the inspiration for a generation of girls to follow their science dreams, an area that had been long deemed "boys only."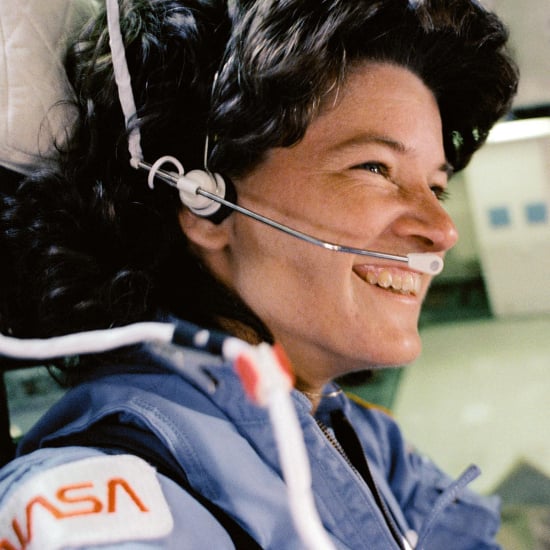 Though she retired from NASA in 1987, Sally — who held a Ph.D. in physics from Stanford — continued to work in the sciences. She founded her own company, Sally Ride Science, whose purpose was to motivate young students to pursue science, technology, engineering, and math. She was an honoree in the National Women's Hall of Fame, the Astronaut Hall of Fame, and was given the National Space Grant Distinguished Service Award by President Obama before her death in 2012 at the age of 61.
The notoriously press-shy former astronaut chose to let her work speak for itself, rather than in publicity, but after reading a rare interview from 1999 with the Los Angeles Times, we can't help but be charmed by the following six excerpts from the interview, adding to the reasons she's one of our heroes.
Sally was a New York Times crossword puzzle master.
She's a Trekkie.
Sally once ranked among the Top 20 junior tennis stars in the nation.
She flew her own plane to her 1982 Kansas wedding to fellow astronaut Steven Hawley.
After NASA, Sally continued work and research as a theoretical physicist.
Her take on science: "Science is fun . . . Science is curiosity. We all have natural curiosity. Science is a process of investigating. It's posing questions and coming up with a method. It's delving in. It's a lot more important than memorizing things like

fila

. Memorizing fila is not science. Science is solving puzzles."