Samsung 7 Series Slider PC
Samsung 7 Series: Not a Tablet, Not Quite a PC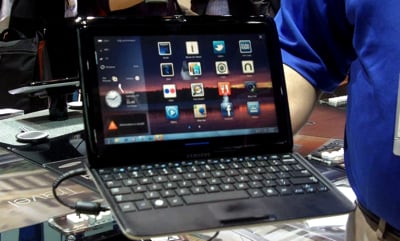 Lusting for a tablet, but don't want to give up the luxury of your functional PC? No problem, says Samsung, who introduced us to the new Samsung 7 Series Slider PC, which gives you tablet-like functionality and a slide-out keyboard to keep you productive.
Running Windows 7 Home Premium, this tablet/laptop hybrid comes with front and rear cameras, a touchscreen (which remains a touchscreen when in laptop mode), WiFi and 3G compatibility, Bluetooth, and Samsung App integration and will come with a dongle so you can connect your USB peripherals and HDMI connectors.
Due out in the Q2 2011, you can check it out in action after the break.