Samsung 9 Series Laptop, MacBook Air Competitor
Samsung 9 Series Laptop Battles MacBook Air in Looks, Not in Price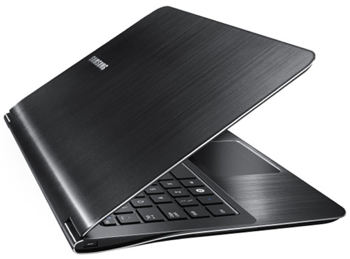 It's not a secret that the travel-friendly MacBook Air is probably my favorite thing since Lucky Charms (so light! so thin!), but the latest ultraslim laptop from Samsung has my eyes wandering just a teeny bit.
Called the 9 series, this 13.3-inch beauty weighs less than three pounds and is made from something called Duralumin, which is used on aircraft and is twice as durable as aluminum. Wait, dur(able) + alumin(um)= Duralumin? Anyway, this baby is pretty sleek-looking and rocks on the inside, too. Find out more after the jump.
The 13.3-inch backlit-LED screen comes with a 160 degree viewing angle, so you and a friend can enjoy a movie on the SuperBright Plus display from many angles. Speaking of movies, the 9 series gets over six hours of battery life on a single charge and has two interesting charging settings — battery life extender mode and express charging mode — so you can choose how quick your packs juice up. Toss in the 128GB of hard drive space, 4GB of RAM, and a subwoofer, and you have yourself a pretty sturdy machine. If only the $1,600 price tag was a mirage, I might consider buying. A $600 price tag would be more my style. Of course, once I get my hands on it, I may change my mind — stay tuned for more 9 Series coverage direct from CES this week!