Samsung CES Preview
Evolving TVs, 10-Point Touch, and a Clear Hint: Samsung's CES Preview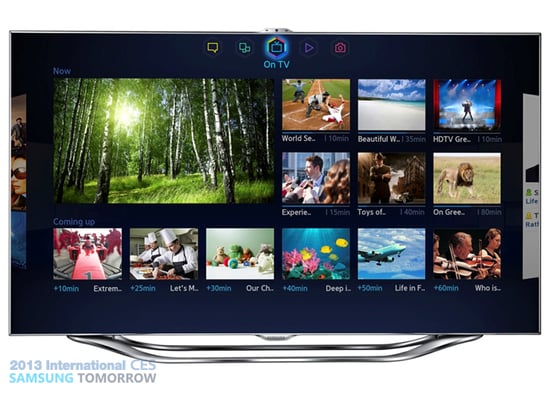 The Consumer Electronics Show (CES) goes down next week in Las Vegas, and since tech companies can't contain their excitement a moment longer, the product announcements are already making noise. Samsung's leading the pack with news of the 2013 edition Smart TV Evolution Kit.
It's a sad reality of gadget enthusiasts, that just about as soon as you finish unboxing the latest shiny new toy, it's already out of date. The Evolution Kit was created to change that, meaning consumers who purchased a 2012 Samsung Smart TV can have the product evolve (oh, got it!) into the company's 2013 technology.
Attach the kit to the back of a 2012 Samsung Smart TV, and it gets updated to the hardware enhancements, as well as voice- and motion-control updates as the new 2013 TVs. Easy as that? We'll be at CES to see the Evolution Kit's world debut, and report back then.
Samsung may be all about the screen this year, with a tease of "unprecedented" TV and touch-screen monitors.
Samsung's first multitouch display optimized specifically for Windows 8 will be the above Series 7 SC770 Touch Monitor. Supporting up to 10 points of simultaneous multitouch, the monitor promises to let users get a whole lot more specific than the pinch-to-zoom we've grown accustomed to.
Plus, we've seen just one teasing look at what Samsung promises to be a big attraction, a television it's described as "an innovation of TV design . . . with an unprecedented new TV shape and timeless gallery design." Those are some bragging words. Could it be the transparent TV we've been dreaming of? All hype or something that'll blow our living rooms away? Stay tuned for news from the Monday, Jan. 7 press conference!