Samsung Galaxy Note 10.1
Galaxy Note 10.1: Samsung's New Tablet Boosts the HD
Samsung updated its Galaxy tablet line with a new 10-inch Galaxy Note 10.1 that mimics the slimmer, lighter, leather-backed profile of the recently unveiled Galaxy Note 3 smartphone.
The new Note tablet, with its 2560 x 1600 LCD display, boasts four times the pixel density of the first Galaxy Note 10. Stacked up against the 2012 model, the 2014 Galaxy Note 10.1 is also lighter at 535g (vs. 597g), is slimmer at 7.8mm (vs. 8.9mm), and has a much better rear camera at 8MP (vs. 5MP).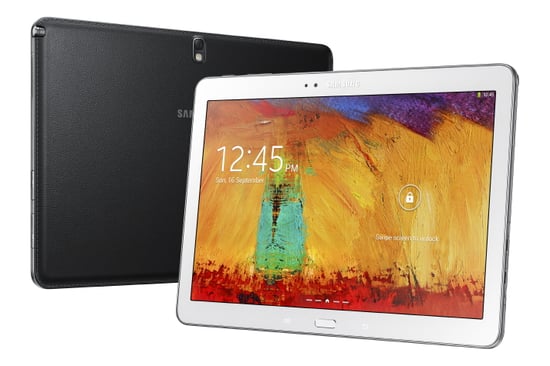 It still includes the Galaxy line's signature S Pen, which received added shortcut capabilities, like Air Command, which offers users a fan menu of features such as S Finder and Screen Write just by hovering the stylus over the display.
The tablet's standout features are the enhanced multitasking capabilities. Users can view several windows from the same application in a magazine-like format and rearrange the layout of the windows with the new S Pen.
Samsung also partnered up with publishers and apps to provide high-definition content on the tablet. The company is calling the free memberships and services "Samsung Content Gifts," which include built-in widgets from The New York Times, Bloomberg Businessweek, Autodesk, Flipboard, Twitter, Dropbox, and more.
The Galaxy Note 10.1 will be available in two colors (jet black and classic white) and three connectivity options: WiFi only, WiFi + 3G, and WiFi + LTE. Compatible with the new Galaxy Gear smartwatch, Samsung's latest tablet will ship Sept. 25 worldwide and in October for the US. Before you consider buying, take a peek at all the tech specs.
Processor — 3G/WiFi: 1.9GHz Octa-core; LTE: 2.3GHz Quad-core
Display — 10.1-inch WQXGA (2560 x 1600) LCD
Camera — 8MP with 60 fps 1080p video rear; 2MP front
Memory — 3GB RAM, 16/32/64GB internal memory, plus microSD up to 64GB
Dimension — 243.1 x 171.4 x 7.9mm, 535g (WiFi version)
OS — Android 4.3 (Jelly Bean)
What do you think of the new refined Galaxy Note 10.1? If you're liking the latest tablet, we'll let you know when and where you can get your hands on one as soon as the information is available.