Samsung Galaxy Note 8
The Tale of Two Tablets: Samsung Galaxy Note 8 vs. iPad Mini
Samsung's Galaxy Note 8 finally has a price tag and a release date. The white tablet, which was unveiled at the Mobile World Congress earlier this year, will be available at big-box retailers nationwide for $400 on April 11.
The Galaxy Note 8 joins the crowded handheld multimedia tablet space, alongside the iPad Mini, Nexus 7, Kindle Fire HD, Nook HD, and others. We've already seen how the top four seven- to eight-inch tablets stack up against each other, but what about the newest device on the block? How does Samsung's newest Note compare to the bestselling iPad Mini?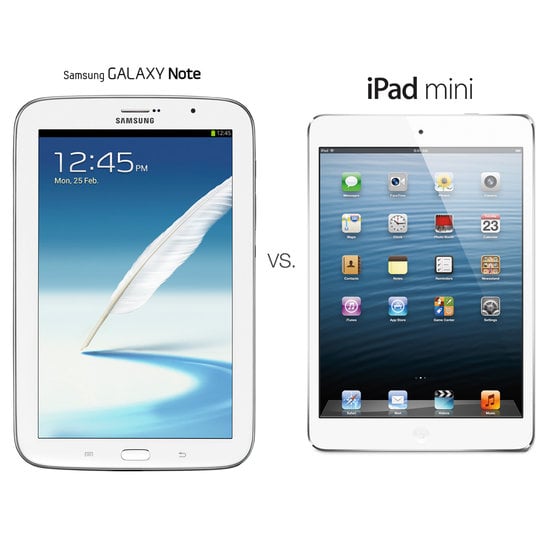 At $400, Samsung's Galaxy Note 8 is a bit more expensive than Apple's handheld tablet ($329 for 16GB) — but not by much. So we compared the new Galaxy Note to the iPad Mini in four other major categories: size, display, memory, and camera.
See how Samsung's new Note fared after the break.
Size
Display
Memory
Camera
Galaxy Note 8
8.3 x 5.3 in., 0.74 lbs
8-inch, 1280 x 800
2GB RAM, 16 or 32GB, up to 64GB with micro SD
Rear: 5MP
Front: 1.3MP
iPad Mini
7.87 x 5.3 in., 0.68 lbs
7.9-inch, 1024 x 768
512MB RAM, 16 or 32 or 64GB
Rear: 5MP, f/2.4 aperture, 1080p video
Front: 1.2MP, 720p video
As we saw in our previous handheld tablet matchup, the iPad Mini is easily beat out in terms of display resolution and memory, but Samsung's Galaxy Note 8 is slightly heavier. And unlike the Mini, the WiFi-only Note does not come in a 3G-data-enabled version.
One noteworthy edge that the Galaxy Note 8 has over the iPad Mini is the S-Pen stylus, which we enjoyed using during our test-drive of the Samsung Galaxy Note II, a phone-tablet hybrid.
In addition to the device, Galaxy Note 8 owners will receive 50GB of free Dropbox storage for two years and one month of free music streaming in Samsung's Music Hub.
After seeing all the specs at a glance, have you met your match? Let us know which small tablet is right for you.