Samsung Galaxy Tab 7 Plus Details on T-Mobile
T-Mobile Offers Samsung Galaxy Tab 7.0 Plus on Payment Plan
Putting a spin on the traditional subsidies of wireless devices, T-Mobile is offering up its latest tiny tablet on a payment plan. The Samsung Galaxy Tab 7.0 Plus is expected to hit shelves on Nov. 16 (just in time to compete with the Amazon Kindle Fire and Nook Tablet) for $250 down (with a $50 mail-in rebate) and $10 monthly payments spread out over the next 20 months, making the $450 price tag more bearable. Of course, the data plan will set you back an additional $30 a month to start, bringing the total cost per month to 40 bones.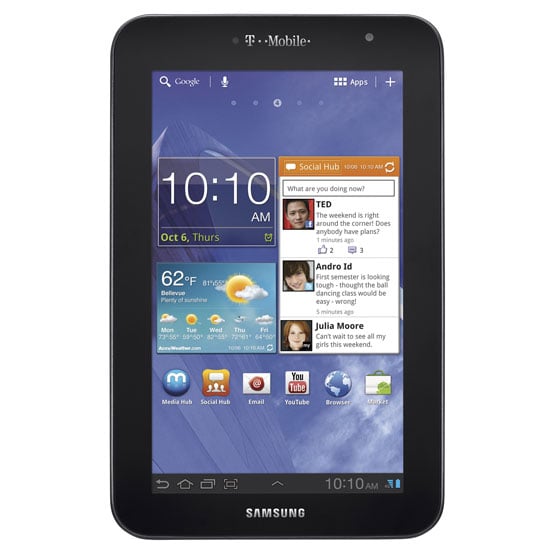 The 7-inch Galaxy Tab Plus comes with some improvements over the last iteration, including a jump in processing power (now 1.2 GHz dual-core), 4G capabilities, Android 3.2, a 3MP rear camera and 2MP forward-facing cam, along with an infrared sensor to use the galaxy tab as a universal remote. There's also 16GB of on-board storage with a microSD expansion slot so you can store your videos, pics, and more.
The Galaxy Tab 7.0 Plus adds another entry to the small tablets trend we're seeing, and I'm betting there will be plenty more to come. Are you into smaller tablets, or do you prefer your tablets to be on the larger, 10-inch side?