Samsung Galaxy Tab Coming to T-Mobile, Verizon, AT&T, Sprint US Carriers
Samsung's Galaxy Tab Coming to All 4 Major US Carriers
We've been hearing all sorts of details about the mobile and portable Android-running Galaxy Tab from Samsung, and during a press conference yesterday, the company revealed that it would be bringing the 7-inch tablet to all four major US carriers this holiday.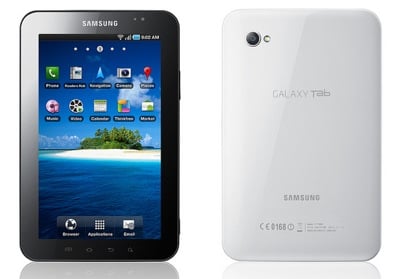 AT&T, Verizon, Sprint, and T-Mobile are all on board to bring 3G access to the compact tablet (4G won't be available on Sprint's network), while Samsung also confirmed that there will be a WiFi-only version, which has become a more cost-effective alternative for tablets and ereaders alike.
While there has been no pricing or availability dates thrown out yet, you guys have already drawn the line at a $500 price limit for a tablet. Hopefully the rumored price point of up to $1,000 doesn't hold true — I'm not sure how many people will indulge, even with the tablet's impressive feature list. Samsung did announce some accessories to go with the Tab, though. Find out those details after the break.
The portable tablet gets down to business with the addition of:
Keyboard Dock ($100) — An ergonomic keyboard to make typing easy.
Desktop Dock ($50) — Acts as a charger using a Micro USB connector, also lets you watch movies when in the landscape position.
Car/GPS Dock ($100) — Turns your Tab into a car-compatible GPS system with a dashboard/windshield attachment.