Samsung Galaxy Tab Release Date and Price
Samsung Galaxy Tab May Launch Nov. 14 For $399
Don't look now, but the iPad may be about to get some serious competition — the Samsung Galaxy Tab is rumored to be launching next month with a price tag any budget-savvy geek can appreciate: $399.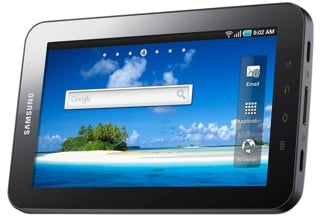 The seven-inch tablet is headed to all four major US carriers (Sprint, AT&T, Verizon, and T-Mobile) this year, so sheer availability coupled with the increasing popularity of Android devices could drive sales pretty high this holiday season. What's more, the Tab is a hit with publishers as well — The New York Times, Wall Street Journal, and USA Today are all said to be building apps for the Tab to be purchased through the Android Market.
Find out more about pricing, and if you'll need to sign up for a contract, after the break.
Rumor has it the feature-packed Galaxy Tab will be subsidized through carriers for a price of $399 with a two-year contract. Samsung has said it will produce a WiFi-only version, which would presumably be available for purchase without signing a carrier agreement.
Does the small price tag of the Galaxy Tab get you pumped for its release?