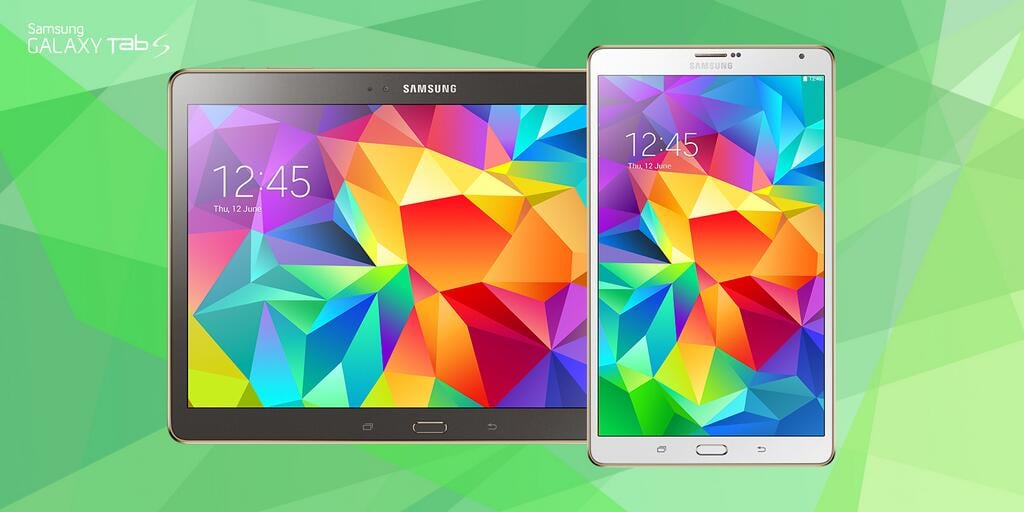 Source: Twitter user SamsungMobile
Uh-oh, the iPad should be very afraid. Samsung unveiled a new line of tablets, the Galaxy Tab S, aimed directly at poaching iPad customers from Apple. The biggest takeaway? The Galaxy Tab S's eye-boggling 4 million pixel "Quad HD" (1440 pixels!) display. On screen, that means more brilliant colors (higher saturation) and better clarity (higher contrast). These tablets were definitely designed for watching visually stunning movies (like Gravity) over and over again. The Galaxy Tab S is also thinner than ever, but the hardware is not all that different from other devices in Samsung's lineup. The dimpled, dotted design on the back is nearly identical to the Samsung Galaxy S5's.
So we pitted the two new Samsung tablets — the 8.4-inch and the 10.5-inch Galaxy Tab S — against its iOS counterparts, the iPad Mini with Retina and the iPad Air. Read on to see how the newest Android tablet is better than the iPad in almost every way. The Galaxy Tab S is available for preorder in white and black today.
Vs. iPad Mini with Retina
| | Galaxy Tab S 8.4 | iPad Mini w/ Retina |
| --- | --- | --- |
| Screen Size | 8.4 inches | 7.9 inches |
| Weight | 0.65 pounds | 0.73 pounds (WiFi only)/0.75 pounds (WiFi + data) |
| Resolution | 2560x1600, 360 pixels per inch | 2048x1536, 326 pixels per inch |
| Price | WiFi: $400/LTE: TBD | WiFi: $399-$699/LTE: $529-$829 |
| Operating System | Android 4.4 KitKat | iOS 7 |
| Camera | Front: 2.1MP/Rear: 8MP, 1080p video | Front: 1.2MP, 720p video/Rear: 5MP, 1080p video |
| Battery Life | 4,900mAh for up to 11 hours | Up to 10 hours |
| Storage | 3GB RAM/16GB memory (micro SD slot up to 128GB) | 1GB RAM/16GB, 32GB, 64GB, or 128GB |
| Processor | 1.9 GHz Quadcore + 1.3 GHz Quadcore | A7 chip with 64-bit architecture and M7 motion coprocessor |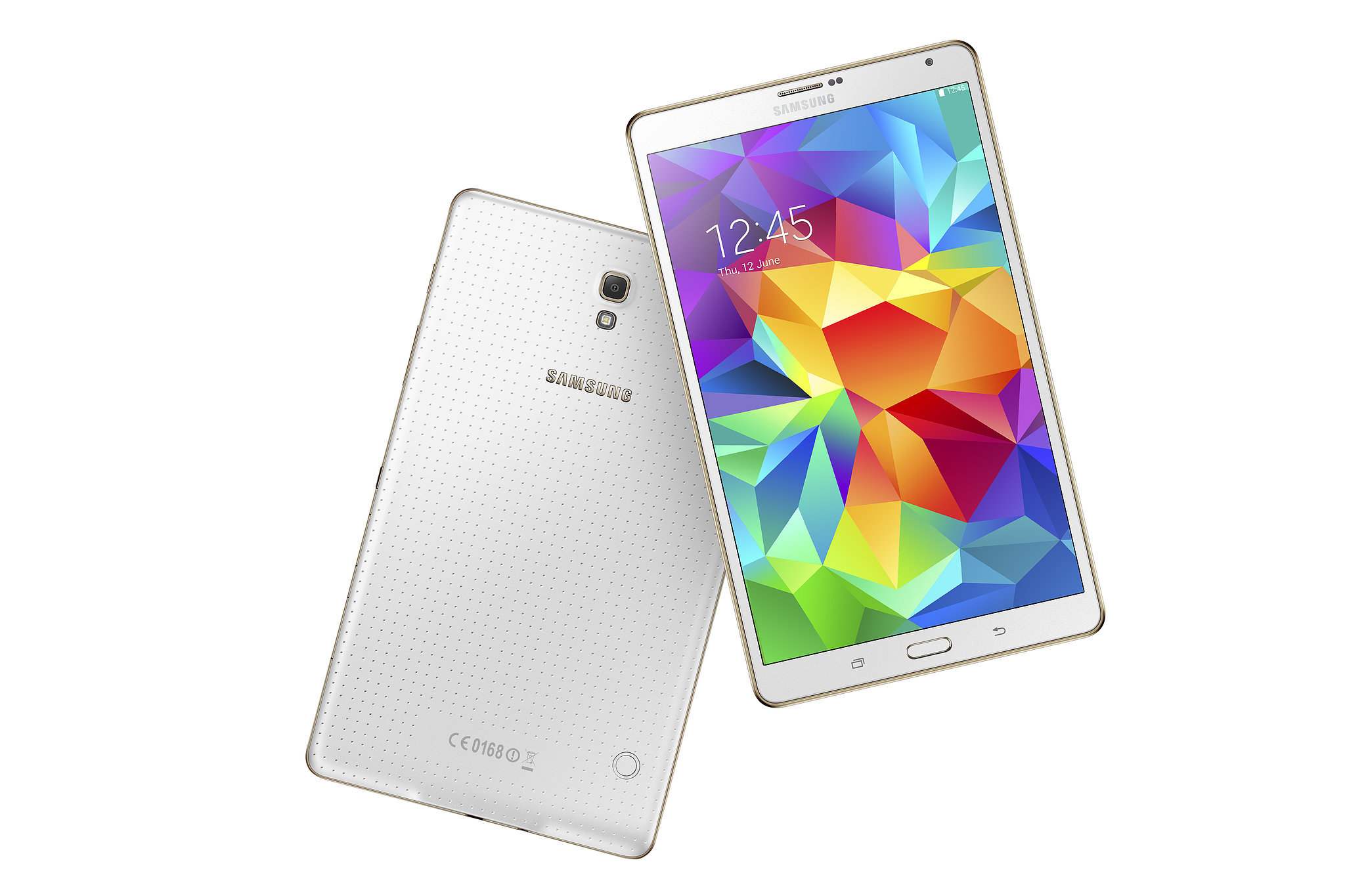 Vs. iPad Air
| | Galaxy Tab S 10.5 | iPad Air |
| --- | --- | --- |
| Screen Size | 10.5 inches | 9.7 inches |
| Weight | 1.02 pounds (WiFi only) | 1 pound (WiFi only)/1.05 pounds (WiFi + data) |
| Resolution | 2560x1600, 287 pixels per inch | 2048x1536, 264 pixels per inch |
| Price | WiFi: $500/LTE: TBD | WiFi: $499-$799/LTE: $629-$929 |
| Operating System | Android 4.4 KitKat | iOS 7 |
| Camera | Front: 2.1MP/Rear: 8MP, 1080p video | Front: 1.2MP, 720p video/Rear: 5MP, 1080p video |
| Battery Life | 7,900mAh for up to 11 hours | Up to 10 hours |
| Storage | 3GB RAM/16GB memory (micro SD slot up to 128GB) | 1GB RAM/16GB, 32GB, 64GB, or 128GB |
| Processor | 1.9 GHz Quadcore + 1.3 GHz Quadcore | A7 chip with 64-bit architecture and M7 motion coprocessor |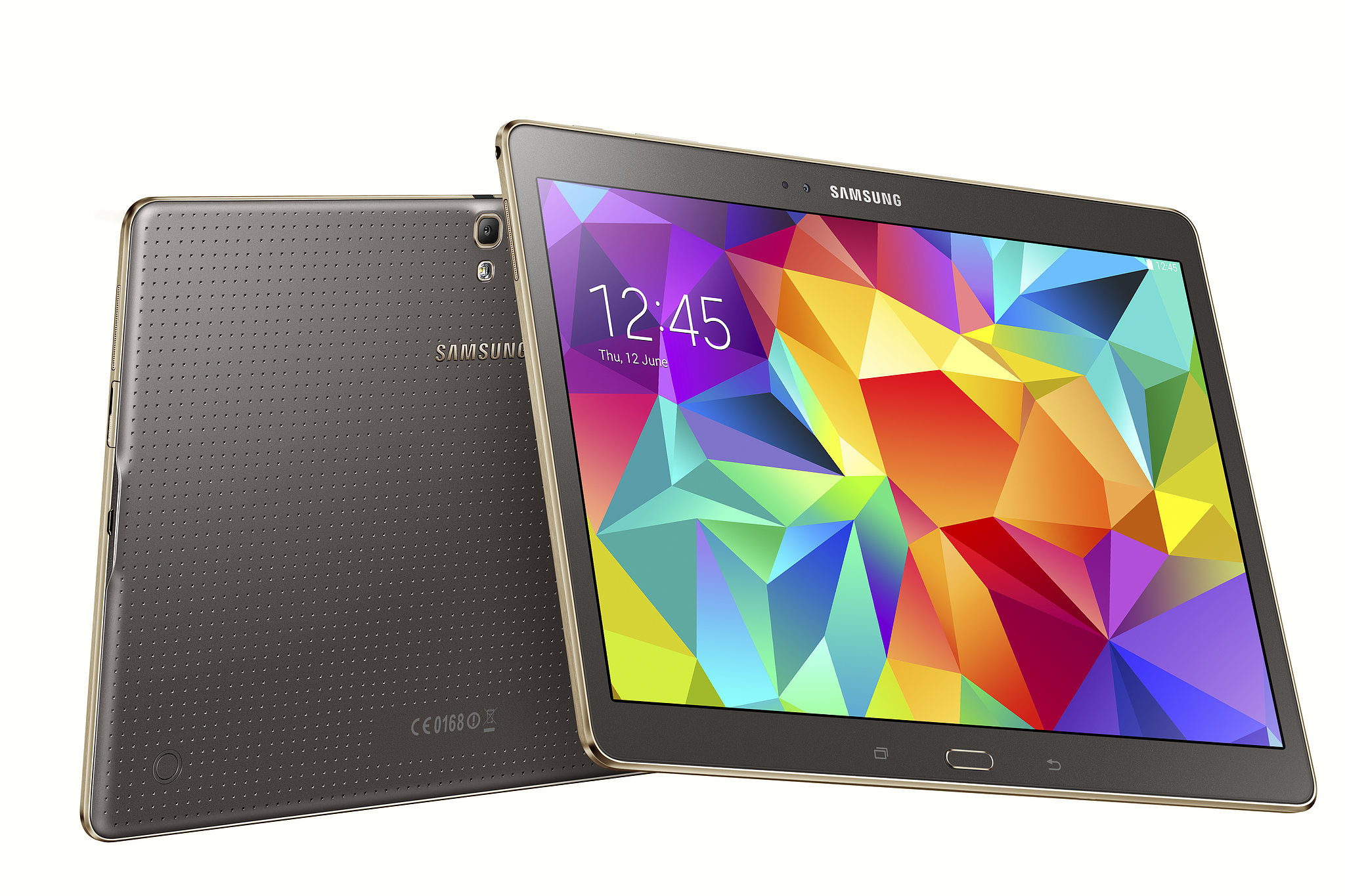 Source: Samsung Mobile