Samsung Galaxy Tab Sprint Price
Sprint Prices Samsung Galaxy Tab, Due Nov. 14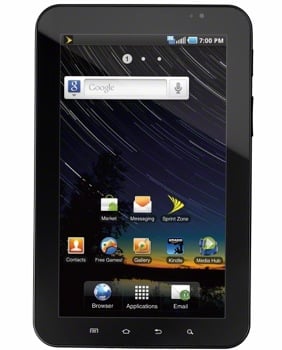 Hot on the heels of the big HP Slate announcement last week, Sprint revealed its official pricing for the upcoming Samsung Galaxy Tab this morning. It was speculated that the Tab would be priced at $399 across many (or all) available networks, and Sprint made things official by releasing its price, data plan packages, and release date. Verizon was first out of the gate for pricing, offering up the Tab contract-free for $600 (with simple, pay-as-you-go data packages), but things are a little more complicated on Sprint. Get your calculators ready as we tally up the totals after the jump.
Starting today, you can preorder the Samsung Galaxy Tab at Sprint stores with a purchase of a $50 Sprint gift card, and get the Tab for $399 with a two-year contract. You'll then have a choice between two data packages: 2GB for $30 a month, or 5GB for $60 a month. Both of these plans come with unlimited messaging over Sprint's 3G network. Additionally, you can add on a WiFi hotspot package for $30 a month, which allows you to connect up to five different devices for WiFi sharing.
Over the long haul, two years with a 3G Galaxy Tab will run you about $1,120 with the 2GB data plan, or $1,840 for a 3G Tab and the 5GB data plan (not including taxes and fees), but don't forget to add an additional $50 if you want to preorder today (however you can apply that towards the purchase of the Tab when you pick it up), $30 extra a month if you want WiFi tethering, and $10 a month if you spring for Sprint's on-the-road Navigation app. Pricey? You betcha. Sprint is allegedly also offering up the Galaxy Tab off-contract for $600, but that info hasn't been made official from Sprint just yet. The Samsung Galaxy Tab will hit Sprint on Nov. 14.