Samsung Infuse 4G Review
Hands-On With the Samsung Infuse 4G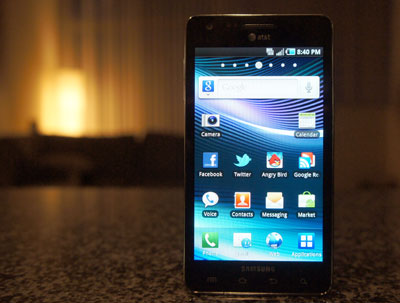 I'll come right out and say it: to me, size matters. So when I heard about the Infuse 4G's huge 4.5-inch screen, I asked AT&T to send me a review unit, possibly out of morbid curiosity. Could a phone this big really make a girl happy? The answer is yes, my friends. Oh, yes.
I had read from the AT&T press release that the Infuse 4G would be big, but I didn't realize just how large it was until I peeled open the box. The thing is massive (only a few inches smaller than the Samsung Galaxy Tab!), but strangely enough I didn't mind. In fact, the bright and beautiful Super AMOLED Plus screen makes this one of the most spectacular smartphones to look at, and totally worth the real estate it will be taking up in your bag or pants pocket. The Infuse is wide, but it's incredibly thin. The phone measures 9.24mm thick at its largest (it has a lip at the bottom where the speaker/microphone lives), and is very sleek with its brushed gunmetal color and texturized backplate. Plus, it's so light (maybe the lightest phone I've handled in recent memory), but it doesn't send off that cheap, plastic vibe. The quality of the hardware is really impressive, and I gotta give Samsung a round of applause for this one. Well done.
To read more about the cameras, call quality, and included apps and features coming with the Infuse 4G, then keep reading.
The Infuse 4G comes with two cameras — an 8MP, 720p HD video rear-facing and 1.3MP forward-facing — and as expected, produces great photos (see examples below). Video playback is amazing (naturally) thanks to the fantastic display, and the included headphones aren't too shabby either. As for the whole "4G" part? Well, I wish I could say it was noticeably faster, but I didn't see a huge difference in surfing speeds, downloading apps and videos, and uploading pics to the Included AT&T storage locker (more on that in a bit) when compared to my iPhone.
I suppose I should talk about the call quality for a minute (it is a phone, anyway), which I'm happy to report is crisp and clear. We all seem to be using our phones less and less for actual voice calls these days, but I made a few over the weekend and found it to be — wait for it — better than my iPhone. I know AT&T has something to do with the reception (which I never have a problem with in my neck of the woods), but I found that I could hear my iPhone-wielding relatives much better on the Infuse than I could previously on my own iDevice. Call me crazy, but that's my story.
AT&T and Samsung packed some nice extra features in with the Infuse, like $25 worth of credits to use at the Samsung Media Hub, a free copy of Angry Birds (that includes an exclusive hidden level), a U-Verse Live TV app (which will come in handy for subscribers — did I mention videos are amazing on this phone?), and the AT&T storage locker where you can send your pics, vids, and data to be stored in the cloud at no cost. Pretty handy!
The only downside to the Infuse 4G is the battery life. I'm estimating that I got between four and five hours running different apps, checking out movie trailers, using the GPS, and taking pictures, which is stuff I do everyday on my iPhone. If this phone got more bang for your buck in the battery department, I'd say it was the perfect device. No kidding, that's how much I enjoyed it.
Overall, I loved using the Infuse 4G. It was chic, classy, had an incredible screen, and was a real pleasure to use despite any pre-conceived notions you have about size; Turns out, 4.5-inches wasn't too big for me. In fact, I'm seriously considering switching from my iPhone. I have to remember to keep a charger handy, though.