Samsung Intercept Coming to Sprint July 11
After a Leak, Sprint's Samsung Intercept Is Ready For Preorder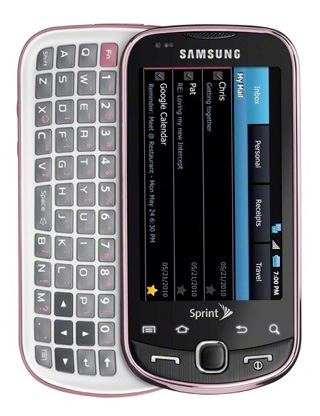 Photos and specs of the latest Android phone for Sprint leaked onto the Internet last week, and now Sprint has made its newest phone official: the Samsung Intercept will launch on July 11. The announcement comes days after Sprint's announcement of its second 4G phone, the Samsung Epic 4G.
The Intercept is a budget-friendly Android option for Sprint users who may not want to shell out for a pricier 4G device but still want a new phone. The Intercept, which comes in two colors (gray and pink), features a 3.2-inch touch screen, 3.2MP camera and video, and full slide-out keyboard.
The cost? It's $100 after a $100 mail-in rebate with two-year contract. The phone ships with Android 2.1. It also has an MP3 player with Micro SD slot supporting up to 32GB of additional storage, with data plans starting at $70/month.