Samsung Releases Super Simple and Stylish SMX-C24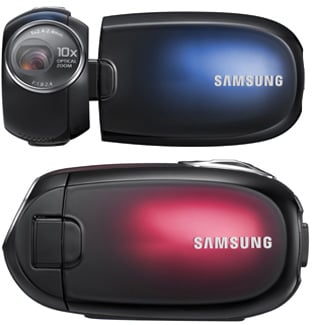 We've seen our fair share of mini HD cameras coming out of CES this week, but there's something different about the Samsung SMX-C24 that I love: simplicity. Although cameras like the Flip and the new Kodak Playsport are fantastically portable, I don't like the fact that you have to install and use their software to upload and edit video. Thankfully, Samsung has sidestepped this common practice and built the editing software straight into the camera. Called the intelli studio, you can edit your videos right from the 2.7" LCD screen, or hook it up to any Mac or PC to play around with. Making things even easier, once you give the C24 your YouTube account info, you're set to go with "one button" uploading. It's that easy.
Add in the 16GB on-board memory, and a comfortable grip made to mimic a natural wrist position, and it's a win all around. The Samsung SMX-C24 would be great for beginning geeks who want to start recording video, moms who want to document their kids' sporting events, and anyone who just wants something simple to capture memories. No prices or release date yet, but you can look for the C24 to land in two colors — red and blue.