Samsung Uses 2001: A Space Odyssey Against Apple
Does Samsung Have Sci-Fi on Its Side?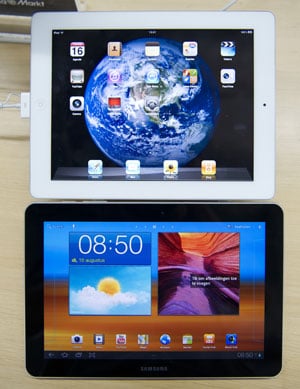 When Apple recently filed an injunction to prohibit the sales of some Samsung phones and Galaxy Tabs, which it deemed too aesthetically similar to its own iPhone and iPad, many wondered (myself included) how the technology giant would prove this patent infringement. Tablet devices have appeared in science-fiction pop culture, including Star Trek, long before any one company produced it.
Turns out the same thought occurred to Samsung, which is now seen in its new legal filing in opposition to Apple's product injunction. Samsung argues the basic design of a tablet — "rectangular shape with a dominant display screen, narrow borders, a predominately flat-front surface, a flat-back surface . . . and a thin form factor" — was created long before the iPad, and a similar design can be seen in the 1968 film classic 2001: A Space Odyssey.
Follow the break to view the clip from 2001: A Space Odyssey used to refute Apple's patent claim.
After watching the film excerpt, do you think Apple has any legal claim to current tablet design?