Sarah Jessica Parker on Twitter
Sarah Jessica Parker on Twitter: "Is There a Point?"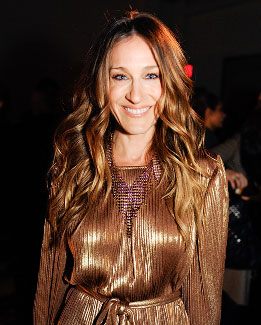 Sarah Jessica Parker is decidedly more well known for her fashion sense than her tech abilities, but that doesn't keep us from loving her any less — she is Carrie Bradshaw afterall!
In a recent interview, Sarah Jessica sat down to chat about her new fragrance when things took a geeky turn to the subject of Twitter. Although SJP admits she has no idea what it does, I'm betting she'd snap up more followers than Bill Gates if she hopped on the Twitter train! Check out what she has to say about the micro-blogging site in the interview below.


On what Twitter is: Is there a point? I really mean this because I've never been on Twitter and I don't understand it — I'm not saying that in a negative way, I really don't understand it. Is there any point at which you say goodnight? Do you actually say, "I'm going to bed now?"

To see what Sarah Jessica would do with all the tweets, and her thoughts on Twitter's role in the fashion industry, just

.



On what Twitter means for fashion: Do you think it leads to more comprehensive investigation? Because if they're just snippets and people are just reading things quickly . . . You know, it's wonderful people have access, and we've talked in the past about how important that is for people all over to learn, and know, and feel, and touch, but how deep does it go beyond that? I wonder about that, if people are just reading snippets . . . what's the next step?
On what to do with all those tweets: Maybe at the end of the year there will be some great compilation, you could pick categories — fashion, beauty, culture. And people could start putting together books, if somebody's twittering for a year on fashion, you could download it and put it into hard print so you can collect a year's worth. Because then you do get more in-depth. You have a recorded history and you don't have to feel guilty. Just a thought!