Scan Your Wallet Contents Into Your Phone
Create a Virtual Wallet With Scanaroo
I've offered up plenty of ways to transform your office and home into a clutter-free zone, but what about your wallet? You may have forgotten about your poor, card-carrying wallet when you began your Spring cleaning regime, but now there's a way to drop the weight of those rewards cards, health cards, and library cards you have stuffed in with the help of an app.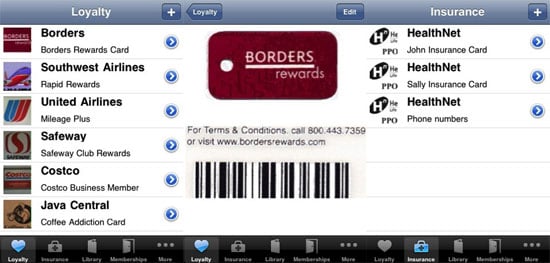 Called Scanaroo ($1), this app allows you to scan in (or take a photo of) your cards to use in the future, while leaving your physical cards at home. Using your Borders rewards card to pick up a new bestseller? Just pull up your card on Scanaroo, hand your phone to the cashier, and scan. It's all good.
But Scanaroo can be helpful in other ways too. Find out more after the break.
I have a bad habit of losing receipts and claim tickets for my dry cleaning. Now, I can just take a photo of them before I leave, and rest assured that I'll never lose the ticket. Unless I lose my phone, and if that happens, well, the Earth will probably stop spinning. But you get the idea — use Scanaroo for claim checks, tickets, receipts, and ditch the paper weight.