The Science of Swimming
How Fluid Dynamics Help Swimmers Take Home the Gold
There's more to Michael Phelps's 19 Olympic gold medals and Missy Franklin's spot on the medal podium than their years of hard training. They also have science on their side. In fact, the best swimmers in the world take advantage of fluid dynamics to reach for gold and beat their competitors. Using their strokes and body positions to minimize drag, top swimmers can increase thrust and reduce resistance. With the help of engineers, NBC Learn produced a 10-part video series leading up to the Games called The Science of the Summer Olympics, which features fascinating details about the more technical side of the sports on display. In this video, they explain how swimmers like Missy Franklin win gold using science, specifically fluid dynamics.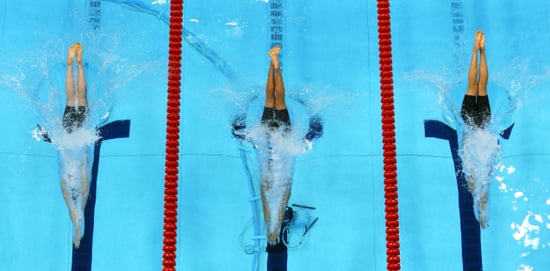 Thrust and overcoming drag are the two key components of fluid dynamics. Thrust is what pushes a swimmer forward. Drag is the resistance of water to the motion of the body.
Like any object looking to achieve maximum speed, such as cars or airplanes, engineers study swimmers' movements to help them move faster in the water.
There are three types of drag: frictional drag, pressure drag, and wave drag.
Strength and power in a swimmer's catch (the moment after your hand enters the water in front of you) are of utmost importance in order to maximize thrust.
Watch the video below to learn how engineers help explain Missy Franklin's quest for gold: