Share Contact Information Instantly With the Poken Spark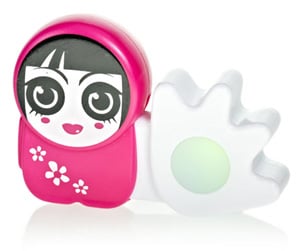 Connecting with new friends and co-workers just got a lot easier thanks to Poken, a line of new gadgets that just made their US debut at the Sundance Film Festival in Utah. The devices work by storing your social media data — think Facebook, LinkedIn — and sharing it with another device when held palm-to-palm.
I'm a fan of their Spark line, featuring Poken devices in over 20 cute and colorful designs — a Geisha, a rapper, a panda, even an alien. When you hold two side by side, the green light illuminates, signaling a connection —literally and digitally! The gadget attaches to your computer via USB, and downloads any received contact information directly to the pokenHUB dashboard — software included on the device.
The Poken Spark is $20 and available in the Poken online store.