Shopkick App Holiday Sweepstakes
Looking For Savings? Play Shopkick's "The 12 Days of Kickmas"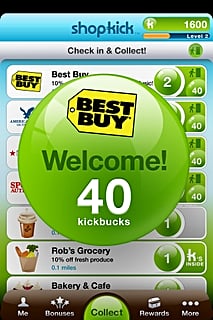 After its initial launch over the Summer, rewards-based app Shopkick has just announced a new holiday program culminating in a grand prize of more than four million kickbucks to put toward a reward of your choosing. "The 12 Days of Kickmas" is a 12-day holiday sweepstakes that awards 12 different Shopkick users with prize packages.
To enter, shoppers should download the free Shopkick app for iPhone or Android and use it to check into a participating store upon entering. Shoppers will receive Kickbucks from participating stores like American Eagle, Best Buy, Target, and Macy's. Each check-in also warrants 50 entries into the sweepstakes, which starts today and ends on Christmas Eve. Winnings will total more than 31 million Kickbucks, which are redeemable for items from MP3 downloads to magazine subscriptions to big-ticket items like TVs.