Last week, a New York Times writer debated the meaning of various email sign-offs, from "Sincerely" to "Fondly" to "Love." Inspired by a woman who actually emailed her to ask the writer to not use her signature sign-off ("Carpe Diem") because she used it, the author "realized how fraught that little epistolary goodbye can be."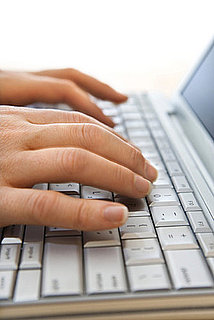 The piece makes some excellent points: with email (or any typed message), it's often difficult to interpret the tone or feeling of the words you're reading, which is why a sign-off is sometimes of heightened importance. "Best" may be too formal for everyday use, but "Thanks!" won't always cut it, either. She then admires a few friends' and acquaintances' sign-offs, ranging from "xx" to "Be Fabulous."
If I'm emailing with a friend or family, I usually stick with a simple, "xk" to sign my emails. If it's business, I usually stick with a "Thanks" or "Talk soon" — "Sincerely" and "Best" just aren't my thing. But this piece got me thinking . . . and I think I'd like to come up with a more creative signature valediction (that's the opposite of "salutation"; I had to look it up, too.)
Do you have a signature way of signing your emails?