Siri For 3GS, 4 Has Been Disabled
Siri Officially Dead For iPhone 3GS and 4 Users
It was fun while it lasted: the voice recognition software known as Siri has been shut down for iPhone 3GS and 4 users, making Siri exclusive to the iPhone 4S. Though the iPhone 4S was seen as somewhat of a disappointment to some who say the improvements just weren't enough, Siri exclusivity may have helped Apple's record-breaking sales figures: over four million 4Ss were sold during the first three days of availability.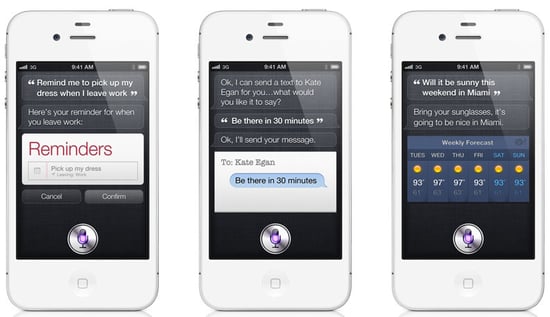 Among some of the other iPhone 4S upgrades (like faster dual-core processor and 8MP camera), Siri has been a hot topic on the Internet all weekend, even getting its own Tumblr. More than just entertaining, though, Siri can be put to good use in many ways during your everyday life. Check out some different uses for Siri below.
Forget about computer speak, Siri understands you as you would talk casually and conversationally. Say "Remind me to grab the gift when I get home," or "I'm looking for good Italian food nearby," and Siri responds back promptly. If Siri doesn't quite understand your request, it will question you further until it finds exactly what you are looking for.
If you are driving in the car and can't be distracted with a touchscreen, Siri reads and sends text messages, finds directions, or helps you set or reschedule appointments on your calendar.
Beyond the day-to-day, Siri helps you find apps and answer questions through Yelp and WolframAlpha, a knowledge search engine.
Location software helps Siri know where you live, work, and spend most of your time. Based off of that information, Siri provides you the best options in terms of map routes, restaurants, or other locations.
Siri can quickly call or text your friends. Simply say, "Text Kate I'm almost there" or "Call a cab," and Siri will quickly do so.
To get the most out of Siri, you'll want to make sure you customize your Siri settings. Head to Settings > General > Siri > My Info to populate your personal details.