Situationist iPhone App
Situationist App: Good Idea or Horrible Idea?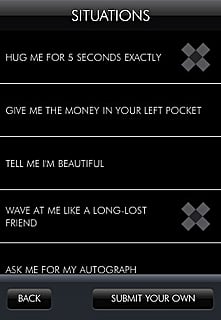 One of the first observations I made after making the cross-country move from NYC to California: Californians are huggers. New Yorkers are not, and even after a year of California life, I have a hard time adopting the practice. So, I must admit I am not a huge fan of the Situationist app for iPhone, an app that essentially invites people to touch you.
The free app allows you to upload a photo, tag your location, and choose an action — hugging, waving, asking for an autograph, and more. Then it invites strangers near your location to find you and perform said action. Of course, this means that only people who are comfortable asking a stranger for a hug will use the app, so I really have nothing to be worried about. The app's creators say it "creates extra-ordinary situations in your everyday life." But still . . . it seems a little bit unsafe, no?
What do you think?