Sky iPad Case DIY
Weekend DIY: Constellation iPad/Ereader Case
The celestial sphere inspires us to wonder what lies beyond the Earth's atmosphere. Thanks to Elizabeth Giorgi at Being Geek Chic, you can bring some stellar astronomy to your iPad or ereader with this simple constellation tablet case do-it-yourself.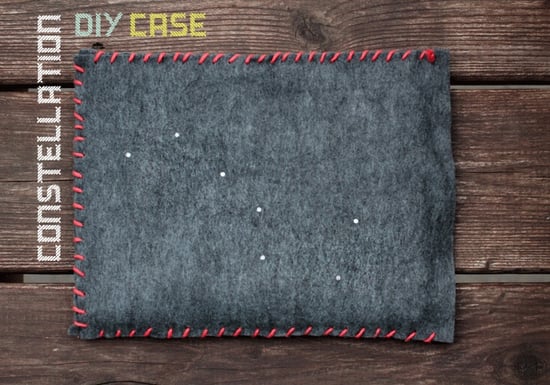 Turn on the device's screen when in the case, and watch that constellation glow! All it takes is two pieces of felt, a pair of scissors or fabric cutter, yarn needle, yarn, two hole-punch sizes, and a hand punch. Watch Elizabeth's awesome video tutorial and get more in-depth instructions after the break.
If you don't want your screen to be exposed by the constellation punctures, we'd suggest attaching some white see-through mesh fabric to the case interior. Or even using glow-in-the-dark fabric paint (in Natural, $4) instead of punching holes.
You can also follow Elizabeth's in-depth step-by-step instructions on her website.