The Smithsonian's Question-and-Answer Website
The Smithsonian's Seriously Amazing Website
The museum, gallery, and national zoo behemoth that is the Smithsonian is dedicated to educating the public about discoveries in the fine arts, science, history, and culture. And since they're such experts, the museum staff receives questions that range from "What should you do if a troculus invades your home?" to "What exactly is 'snarge'?".
In response to all that scientific inquisition, the Smithsonian launched Seriously Amazing, an interactive, educational website that features thought-provoking questions and mind-boggling answers.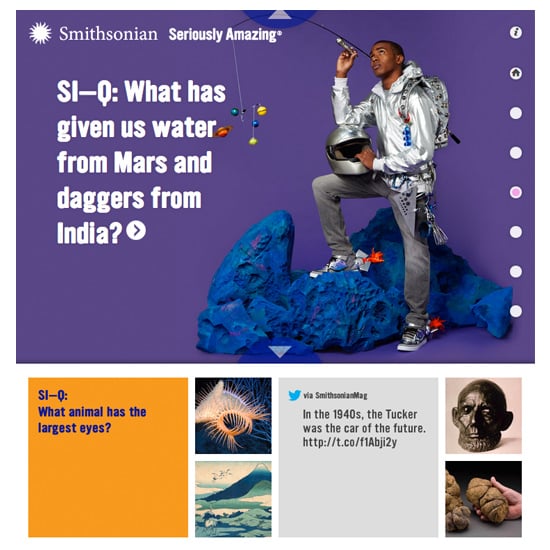 Wondering what the answer is to the inquiry above? It's meteorites at the Smithsonian! Seriously Amazing covers every compelling topic under the sun — from pop culture to politics, nothing is left untouched.
The best part of the site is its social integration, which allows readers to share their discoveries via Twitter, Facebook, Tumblr, Pinterest, and email, with tailored content for each. If curious minds desire further reading, the Q&A quips link to longer articles from Smithsonian archives.
Seriously Amazing is also seriously well-designed and responsive, with tiles that move and expand as users click on them. The site embeds pictures from their expansive image collection and tweets from the Smithsonian and associated museums' Twitter handles. Explore the site, and then share your scientific findings with us!