Snooze iPhone Alarm Clock Dock
An iPhone Dock That's Bringing Back the Snooze Button
There's something so satisfying about reaching over and whacking a snooze button first thing in the morning — a luxury that, until now, couldn't happen with a standard iPhone alarm. The team at Distil Union hopes to give the giant snooze button of yesterday another turn in the spotlight.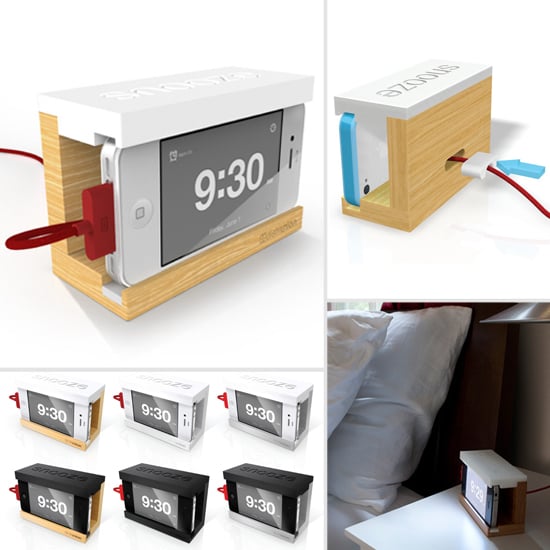 Snooze (intended to retail for $50) is a simple alarm clock iPhone dock with a big rubber snooze bar on top, a compartment to place your iPhone, and a pass-through holder to keep the iPhone cord tidy. The no-fuss product allows you to easily reach over and quiet your alarm or incoming phone calls — without knocking your cell phone off the bedside table.
With three wood varieties, two rubber colors, and an added aluminum style, Snooze is available in several different designs. It's convenient, too: the non-slip silicone bottom keeps the dock from sliding around and a removable insert accommodates iPhones with a bumper case. The custom Snooze app — similar to the classic iPhone Clock — features a range of alarm sounds, a clock display with dimming functionality, and the capability to change the length of the snooze period.
If you're interested, head over to the Snooze Kickstarter campaign to support the project and "keep the dream alive."