Social Media and Casual Sex
How Social Media Is Changing Casual Sex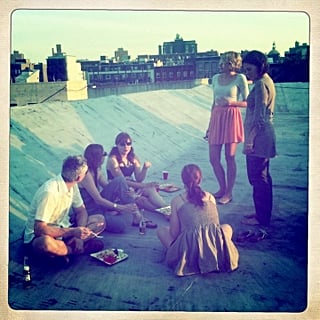 Last week the New York Observer published a trend piece that concluded young New Yorkers are having less sex. A sweeping statement based on a handful of people noticing no couples pairing off at the dead end of night. From there, he hastily drew a familiar conclusion: everyone's a narcissist now. People would rather groom their online persona by posting where they're at than actually interact, but — I can assure you — nobody loves sex more than a narcissist.
Nobody knows how much sex people have without straight-up asking (and even then, who knows?), so I did the next best thing. I talked to someone who knows a lot about "young New Yorkers," their parties, and — for better or worse — their sex lives, Brooklyn-based writer Diana Vilibert. See what she thinks below.
First, she points out online persona grooming is time well spent if you're looking to meet people. It does not replace sex or flirting, she says, but it's an "additional means of getting laid." And since people use the Internet to flirt and procure sex, and not just anonymously anymore, it's impossible to know who is having sex with whom and when they are having it.
"Just because the writer didn't spot anyone coupling off and leaving a party together at 4 in the morning to have sex on an air mattress in Bushwick, doesn't mean that no one is coupling off, period . . . Social media makes it easier to hook up, not harder. It alleviates the now-or-never pressure of going home with someone at the end of a party if you know you can come home, find them on Twitter, float a flirty DM their way, and take things from there. Sex can still be 'casual' even if it doesn't happen immediately postparty."
So what we're really dealing with may be a shift in how people hook up. Why linger at an overcrowded party hoping for sex when you can wait at home with one sent text? It could just be New York, but I suspect it's more widespread. Or maybe this guy was just at the wrong party!
Source: Flickr User Tarnie