Social Networking PDA
Social Networking PDA: How Far Is Too Far?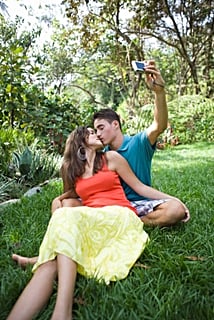 You probably have a few friends who perpetually update Facebook statuses and Twitter messages with messages for their significant others. Sending a love note via IM or even a private message is one thing; professing your undying love for the world (or even just your shared friends) to see is another entirely. Tech causes plenty of potential for established couples, but what happens when that couple isn't you?
Generally, I think that a little bit of love on a partner's Facebook feed or Twitter stream is fine. You are in a relationship, after all. But if you hit the "Like" button every time they post an update, photo, or comment, overload your page with photos of the two of you, and tweeting at each other all day, you may need a tech relationship intervention. In fact, I think this scenario is even worse when one half of the couple does all of the posting.
How far is too far? Let me know after the break.
I'm dealing with a situation like this in my current Twitter stream; two people who are clearly interested in each other keep tweeting at each other — all day long. Is it out of line for me to ask them to take it to the next level and start private messaging? Perhaps there is a case for going social networking-free. How far is too far?