Social Networks and Social Change
Do Social Networks Matter in Social Change?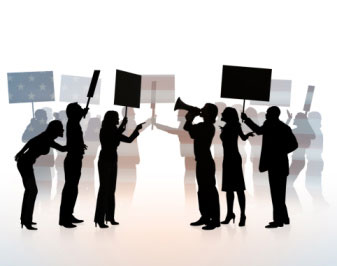 How important are online networks as a catalyst for social change? The New Yorker's Malcolm Gladwell, ever-observant social commenter and author of bestsellers such as Blink and The Tipping Point, thinks that although they are great ways to keep in touch with acquaintances and strangers, social networks do little to motivate people enough to incite a movement like civil rights or suffrage. The idea that the Iran and Moldova protests began on Twitter, he says, could not have been possible because of the low users in those countries.
For more on this topic (and to share your thoughts), keep reading.
He does say that Facebook pages and Twitter trends do help propel a movement by "lessening the level of motivation that participation requires" — after all, you can just fan an "End Don't Ask Don't Tell" page and donate — but are not going to motivate people to make a real sacrifice. Our real-life friends and influencers are the only ones who can give us that push, he says.
I think the collective experience of reading and expressing your beliefs online with your network is an important segment of any movement. Maybe you're too busy, maybe you don't read the news, but chances are if your online friends are enraged about something collectively, it'll get you to pay attention and, if it ends up being a cause that you identify with, act to support it.
Do you agree with Gladwell? Or do you think that online social networks are an integral part of any modern movement?