Social Planning App
"Let's Hang Out Sometime!" Ketchup Makes Sure You Actually Do
Ketchup (free) is a new iOS app that may help solve a unique problem: flaky friends. Are you always hearing, "let's hang out sometime"? Ketchup, a mobile- and web-based planner, ensures friends make good on that promise.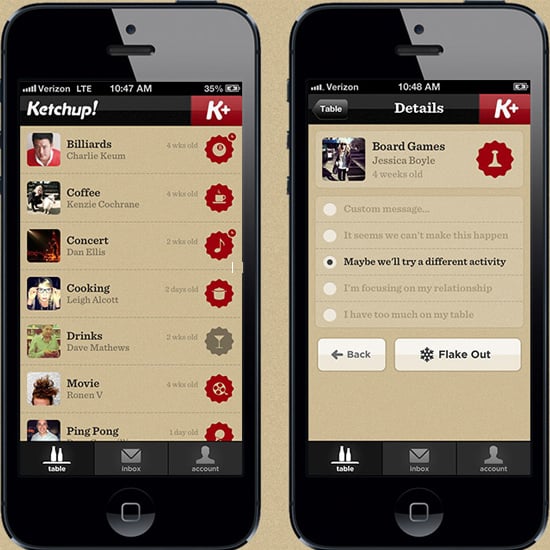 Friends send and accept invitations to do activities like coffee, lunch, dancing, drinks, or just hanging out. If you don't like what you see, you can respond with a variety of canned responses: a polite "It seems we can't make this happen" or a very straightforward "I'm focusing on my relationship." Once you've committed to an activity, there are only two options, complete or "flake."
Users need a Facebook account to use the app, but friends can be contacted via email or SMS if they're not on Ketchup. There's a web version of Ketchup as well, so you can make sure you're all caught up with invitations even without a mobile device.
Do you think Ketchup can cure your case of flaky friends? Download the app and let us know if you feel in "control of your social life." Watch how Ketchup works after the break.