SocialCam Social Video Sharing App From Justin.tv
App to Look Out For: SocialCam From Justin.tv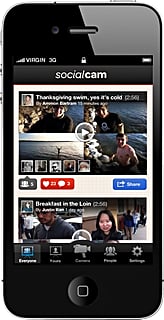 Justin.tv launched a live-streaming mobile app last year, but it already has plans for a different approach. A new app, called SocialCam, will debut in March and allow users to quickly upload and share video across social networks, not unlike the successful model employed by photo-sharing apps like Instagram and PicPlz.
Live, streaming content, according to the company's VP of marketing, wasn't as popular as expected. In fact, more than 90 percent of videos uploaded using Justin.tv's live app were viewed after the fact — not live as the app intended. SocialCam will upload videos immediately, allowing users to tag people appearing in the video. The new app is expected to launch for both iPhone and Android in early March.
If you're interested in checking it out, you can sign up for early access on the app's website.