Solar iPhone Charger From Muzatch
Get Into Spring With the Solar-Powered MZH-1200 iPhone Charger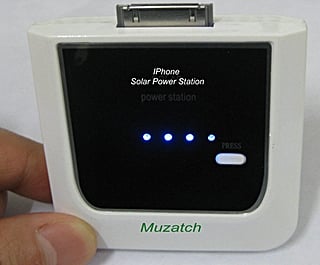 Even though the official date is a few days away, it's already Spring at Sugar HQ! I'm loving how sunny it is, especially since it means that all my solar-powered gadgets are gonna get their fill of all-natural juice.
Adding to the list of solar-powered gizmos is Muzatch's MZH-1200 iPhone Power Station ($50). At about half the size of an iPhone and weighing in at a mere 9.8 ounces, it's perfectly sized for travel. A drawback for some and a plus for others is that the MZH-1200 is powered entirely by solar energy. Not bad if you're trying to reduce your carbon footprint, but not good if you get stuck in the dark with it. Probably best to keep this baby in the sunlight whenever possible.
Find out how the MZH-1200 works when you
.
It's easy enough to use: plug it right into the charge port of your iPhone, and four LED lights indicate that it is in charge mode. The MZH-1200 contains a 1,000mAh battery, and at full throttle, it brings your battery life to the halfway mark. Not ideal if you run out of juice on the daily, but, hey, sometimes we gotta make sacrifices for the planet! The retro-looking design is available in blue, black, silver, white, and green and is iPod compatible.