Sony 3D Cyber-Shot Camera
Sony Releases Colorful 3D-Enabled Line of Cyber-Shots
When I asked you back in February if you'd buy a 3D camera, a majority of you resounded with an enthusiastic "Yes!" Who knew that just months later we'd be seeing the smallest 3D-enabled Cyber-shots roll out onto the market!? Called the Cyber-shot TX9 ($400), this 12.2MP handheld point-and-shoot takes 3D panoramic photos — that you can view in 16:9 quality on your 3D-ready TVs — by shooting separate left and right eye images as you sweep across the horizon. Although not all of your images can be viewed in 3D, it's definitely a start!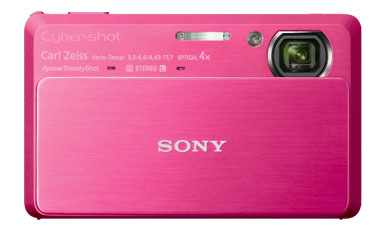 Alongside the 3D panoramic feature, the TX9 takes excellent low-light pics (via its Hand Held Twilight mode that captures six images in the fraction of a second, then combines them to reduce blur and noise), has 1080i movie mode and HDMI output for viewing your videos on your big HDTV screen, and has a 3.5-inch LCD touchscreen, which allows you to scroll through your images and edit photos right in the camera. Bonus — the TX9 comes with a "soft skin" mode that automatically touches up your subjects' skin tones for better portraits and Facebook pics. Other features include blink, motion, and face detection, and Photomusic, which lets you create fun slideshows with music right in the camera. The TX9 is available for preorder now and can be picked up in gray or a pinky-red hue (seen here) this September.
But that's not the only news out of camp Sony today. Find out more about another new model — the T99 — and see additional pics after the break.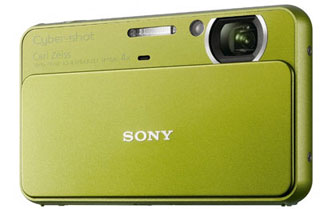 Also released is the Cyber-shot T99 ($250), a more affordable (yet just as colorful) model that isn't 3D-ready but still comes with lots of fantastic features. Coming in a range of colors — from violet to green — the 14.1MP T99 is perfect for sports fans or shutterbugs on the go with its Optical SteadyShot image stabilization, which uses a gyro sensor to capture movement faster, while reducing blur and noise. Other features include the same "soft skin" technology as the TX9, 720p video capture, a 3-inch touchscreen, "Smile Shutter" to capture smiles as they happen, antiblink and motion detection, and a new "Transfer Jet" technology that allows you to transfer files between two Transfer Jet devices just by touching them together. The T99 is available for preorder now and will be seen on shelves this September.