Sony Bloggie vs. Flip Video vs. Kodak Playsport vs. Samsung E10 Camcorders
Battle of the Pocket-Sized Camcorders: How They Stack Up
Although a pocket-sized camcorder is perfect for seasonal vacations, they can come in handy all year-round which makes them the perfect holiday gift for a budding videographer. This year, I've been especially sweet on the Kodak Playsport HD, but there's been some other players that caught my eye as well — the Samsung E10 for example. It's a sleek looking camcorder, which not only boasts an HDMI out, USB connector, and 1920x1080 full-HD video capture, but a 2.7-inch touchscreen LCD screen to boot.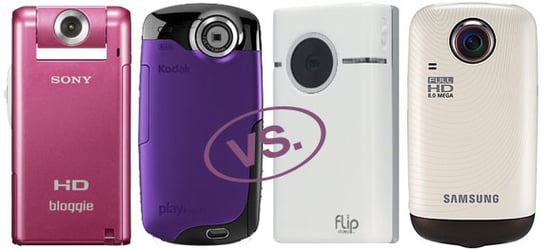 Want to know how these, along with the Sony Bloggie and Flip SlideHD camcorders rank? Check out all the stats, and my take on which one you should add to your wish lists after the break.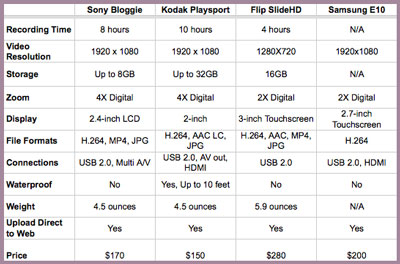 If I'm going off of looks alone, I'm all about the new Samsung E10. Its cool white exterior and swiveling lens make it all the more worthwhile to carry around. If we could only find out how much recording time and storage we were working with here, I could be able to make a definitive decision. However, since those stats are missing from the press release (the E10 isn't due out until September), I'll have to tip my hat and recommend the Kodak PlaysportHD yet again. Its 10-hour HD recording time, affordable price tag, rugged outer body, and waterproof abilities make this the camera to toss in your bag for your late Summer camping trips, and keep around for your Winter sports excursions.