Sony Google TV Prices
Sony's Google TV-Ready TVs Will Set You Back $1,900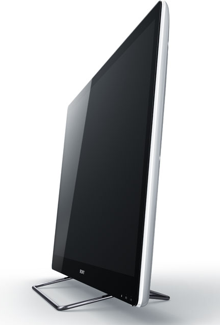 Hype is growing ahead of the Google TV launch, especially after its official site unveiling and Logitech's announcement detailing its lineup of Google TV set-top boxes and accessories. Adding to the hype is Sony Insider, who leaked the rumored price list of the upcoming Sony Google TV family.
Starting at $1,300 for a 32-inch screen and running all the way up to $1,900 for the large 46-inch size, these sleek TVs will be Internet- and Google TV-ready, packed with an Intel processor so you can surf the web without the need for any other device. There are no additional details on the TVs other than the price, and while I've been as excited for the Google TV experience as the next gal, I don't think I could bring myself to shell out $1,300 for a 32-inch TV.
Is it just me, or does that sticker price seem way too high? Granted, Google TV will easily streamline your content viewing experience at home, but why shell out this kind of dough for something you can already do on your home computer? Maybe Google TV is just losing its sheen for me. What about you? Let me know how you feel about Google TV and all its branded products in the comments.
Update: Sony Insider has updated their reported pricing structure on the TVs, with the 46-inch model now being priced at $1,399 instead of the $1,900 as stated earlier.