Sony Lens Camera For iPhone
Cell Phone Pics Level Up With Sony Smart Lens Cameras
Between smartwatches and phablets, 2013 is the year of the hybrid gadget, seen with particular emphasis in Sony's introduction this week of the QX Series lens cameras, designed for the insta-uploading Instagrammers of the world who want to enhance the quick snaps of the usual 8MP+ smartphones, but also made for those who crave a completely new way to capture images. The two "lens-style" cameras, as Sony calls them, is nothing like you've seen before. The QX10 and QX100 work with both Android and iOS devices to give higher quality imaging and zoom to the onboard cameras. Or, the cameras (which, yes, simply look like lenses) can be used independent of other devices. Place the QX10 or QX100 on a tabletop, for instance, and the phone is used simply as a digital viewfinder — if at all — receiving a signal up to 30 feet away.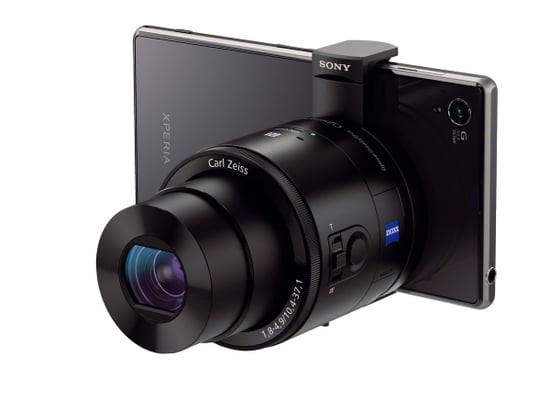 The QX100 ($500, pictured above) has a 20.2 MP CMOS sensor, also used in the Sony Cybershot RX100 II ($750). The f/1.8 lens also has ISO of 160-25600 and 3.6x optical zoom, which can be manually adjusted with a just-like-a-real-camera-lens control ring. So the basic experience of a DSLR with taking pictures, shooting 1080p HD video, having control of the aperture, and exposure remains even though the camera body is gone.
The QX10 ($250) has a smaller sensor than the QX100 at 18.2MP, but it does include what many iPhoneographers lack, zoom. The 10x zoom lens handles an ISO 100-12800, and comes in black or white finishes. Both smart lens cameras have their own shutter release functions, meaning the smartphone doesn't always have to be present, as well as space for a memory card and rechargeable battery.
Available later this month, both lenses, with a reported battery life of about 200 shots, are to be used with Sony's PlayMemories Mobile app, available on iOS and Android, which then gives the phone camera several shooting options: program auto, intelligent auto, and superior auto, settings with which Sony camera veterans will already be familiar. For phones with NFC, the lenses can be paired with a touch, but those without like iPhones can use WiFi to sync with the lenses.
While $200+ lenses for a smartphone may seem like a crazy thought, these lenses can function as two separate devices — smartphone accessory lens or super mobile travel camera. Would you outfit your phone with an HD external lens? Or opt to use this totally new type of photography device on its own?