Sony S1 and S2 Tablet Details
Sony Introduces Two New Honeycomb Tablets: S1 and S2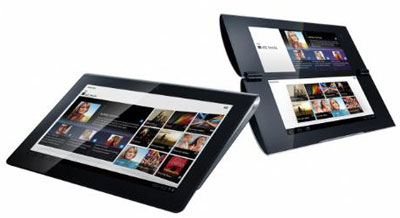 Itching to get your hands on a tablet that's not an iPad? Sony is answering the call with two new models: Sony S1 and S2. Due to hit this Fall for your mobile computing needs, both of these tablets are running Android Honeycomb 3.0, are 3G and 4G compatible, and come equipped with some awesome gaming integration — like first generation PlayStation titles — thanks to the included PlayStation Suite. Plus, readers will be pleased to know that you can also download books easily from the Reader store. Get the scoop on how these two tablets differ below!
Sony S1
The Sony S1 comes with a 9.4-inch screen and a unique "off-center of gravity" form. It's heavier on top, so it's easier to hold for longer periods of time, and the soft keyboard has been optimized for the larger screen. No word on if there's any cameras included with this model, but I can't imagine there wouldn't be.
Sony S2
Looking a lot like a cross between the Kyocera Echo and a Sony Bloggie, the S2 comes with two 5.5-inch screens that can be used together to surf the Internet (though a big crease in the middle of your webpage might get annoying), or separately to draft emails, text, or watch movies. The S2 folds up nicely, so it should fit into the smallest of bags and could be handy for travel.
Get a different look at both tablets in a demo video from Sony, and tell me what you think of these offerings after the break.