Sony Tablet S and HTC Jetstream
Sony's Tablet S and HTC's Jetstream Tablet: All the Details You Need to Know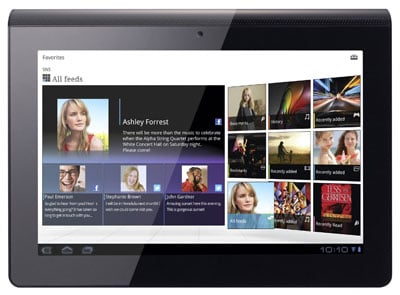 It's raining gadgets from Berlin's IFA 2011 conference this week, and tablets are again stealing the spotlight. Two new tablets were announced this morning: the Sony Tablet S and the HTC Jetstream, which are both due to hit shelves in the coming weeks. Let's take a closer look at each!
Sony Tablet S
Sony's Tablet S (seen here) is the more affordable of the two, priced at $500 for a 16GB model and $600 for 32GB. Coming with a wedge-shaped body, a 9.4-inch touchscreen display, and running an Android OS, the Tablet S has a crisp display and fast processor. It's perfect for on-the-go computing, since there will be a WiFi-only and WiFi+3G version to choose from. Features loaded on the Tablet S include:
Android 3.1 Honeycomb (WiFi), Honeycomb 3.2 (WiFi+3G)
0.3-0.8 inches thick and weighs about 1.25 pounds
NVidia Tegra 2 dual-core processor
Front-facing .3MP camera, and rear-facing 5MP camera with LED flash
An IR port that lets you control your TV, DLNA compatibility
Expandable SD card slot
Plays classic PlayStation games that are downloadable from a custom store
Sony ereader store built in
Battery life around 8.5 hours
On sale in September
See what's up with the HTC Jetstream after the break.
HTC Jetstream
HTC's 10.1-inch Android tablet is coming exclusively to AT&T in September with a hefty price tag of $700 on a two-year contract. If that sounds a little steep, there is good news: AT&T is offering reduced pricing for the Jetstream for customers who also sign up for its brand new $35, 3GB monthly data plan (though no actual discount details have been revealed). The tablet, which was previously dubbed the "Puccini," will feature AT&T's 4G/LTE HSPA+ connectivity. Unfortunately, no WiFi-only version has been announced yet. Other Jetstream features include:
Android 3.1
.51 inches thick and weighs just over 1.5 pounds
Speedy 1.5 GHz dual-core Snapdragon processor
Front-facing 1.3MP camera, and rear-facing 8MP camera with LED flash
1080p video playback and record
HTC's Scribe stylus will be available at no additional cost (for a limited time)
Available Sept. 4
Our Recommendation
Granted, we haven't been able to get our hands on either tablet yet for a full review but for the price alone, the Sony Tablet S seems to be the way to go here. Especially with cool features like the IR port and DLNA compatibility (which allows your tablet to "talk" to other DLNA-enabled devices — like TVs, smartphones, and the PS3 — without having to configure them beforehand). The Jetstream does have power on its side with the dual-core Snapdragon processors, 8MP camera, 1080p playback, and LTE data transfers.
All in all, if you're already a Sony fan, the Tablet S seems like a solid tablet that will run the latest version of Android for your browsing pleasure. HTC will have to come down on the price of the Jetstream before I consider buying!