SoundTracking Music Sharing App For iPhone
Share What You're Listening to With SoundTracking For iPhone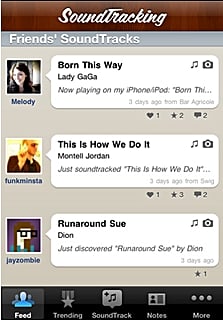 If you want to share thoughts, photos, links, or just about anything else with friends, there is a small army of social networking apps that help you get the job done. From Twitter to Facebook to Instagram to FoodSpotting, online friends and contacts can easily see what you're sharing. And now a new app for iPhone lets them hear the music you're listening to.
SoundTracking allows you to share the music you're listening to as you're listening. First, sign into the app via Twitter, Facebook, or Foursquare; friends using the service are automatically pulled into your feed. Then, identify what you're listening to using search, the app's song-recognition feature, or even what's playing on your iPod app at the time. Then tag your location — right down to a specific venue if you're listening to live music. You can even check in on Foursquare at the same time.
Users can also add photos to posts, like and comment on other friends' selections, and see which songs and locations are trending. SoundTracking is available free from the App Store.