Space Costumes
Wear This Solar System Costume Solo or With Planetary Friends
This costume is far out! Go beyond light-years this Halloween with a solar system costume you can rock yourself or as a group. Read on to find out how to turn styrofoam balls, nebula tights, hula hoops, and paper lanterns into the most galactic space garb you've ever laid your naked eye on.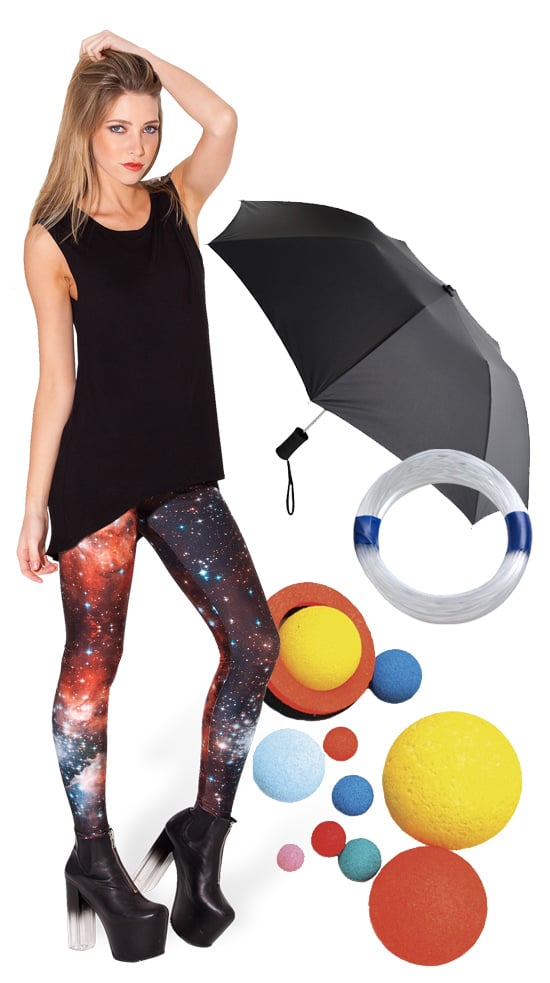 Solar System Costume
As an added bonus, you could also wear this Glow in the Dark Stars Headband ($30) from Etsy user JanineBasil.
Planning on going as a group? Learn how to make individual planet costumes after the break.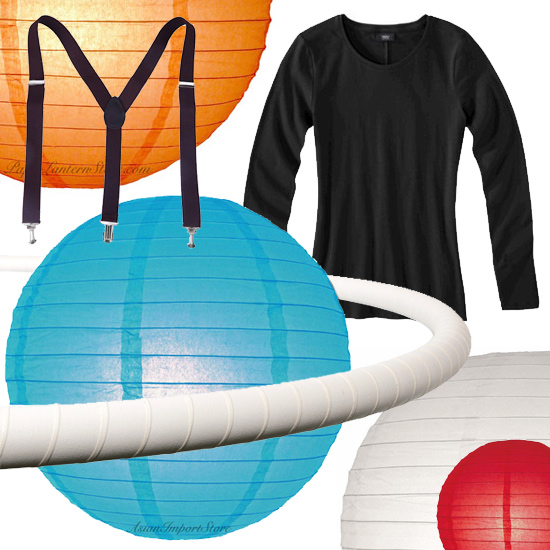 Planet Costume
Start with a plain black long-sleeved tee, like this one from Target ($10, originally $13).
Next, get a round paper lantern, preferably in a larger size (24-inch diameter and up). There are plenty of size and color options from the Paper Lantern Store.
For Mercury, use silver in a small size, and attach the lantern with a hot glue gun or sew it into to the front of the t-shirt. For Venus, use papaya in a small-medium size and attach it to your shirt.
For Earth, take a white globe and draw the Earth's surface with markers or paint. Use a larger sizer and cut a large opening (as wide as your shoulders) on the bottom and top (wider than your head but more narrow than shoulders), plus two small openings on the sides for arms. Slip through the lantern and wear it as a top! Do the same for Mars (red), Jupiter (orange with white swirls), Saturn (burnt orange), Uranus (water blue), and Neptune (dark blue).
For planets with rings (Saturn, Uranus, and a faint one around Neptune), use a hula hoop ($40), and suspend it around your hips with suspenders ($8, originally $10) or string and duck tape to wear over your shoulders.