Space Shuttle Launch Live Stream
How To: Watch the Final Space Shuttle Launch Online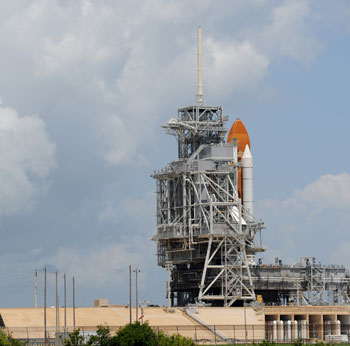 Weather permitting, tomorrow marks the final launch for NASA's space shuttle program. At 11:36 a.m. EDT, the shuttle Atlantis will take off from the Kennedy Space Center for a 12-day mission to the International Space Station, marking the final trip to space for NASA's shuttle fleet. Thanks to technology, you don't have to head to Cape Canaveral to view the launch (though it could be a very geeky trip). Instead, there are a few ways you can watch the Atlantis launch live online; find out how below!
On Your Computer
NASA will be broadcasting the shuttle launch live tomorrow, with a pre-launch update beginning at 8:00 a.m. EDT.
On Your TV
Major news networks will be broadcasting the shuttle launch live on TV, so be sure to check your local listings for stations and times.
On Your iPhone and iPad
NASA has free apps for both the iPhone and iPad that allow you to watch NASA TV live, including tomorrow's shuttle launch.
Hashtags to Follow
If you can't get to a computer screen or pause to watch the live video, you can follow the action on NASA and NASAKennedy's Twitter streams, and watch for the #STS135 #NASA and #Shuttle hashtags.