Spanish Town With Video Game Street Names
New Spanish Neighborhood Gets Video Game-Inspired Streets
You know that game where you put together the name of your first pet and the street you grew up on to form your porn name? Well, if some of the residents of Arcosur, Spain tried this, it wouldn't have quite the same effect.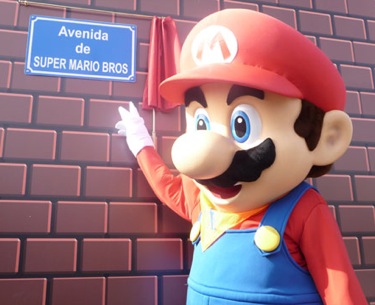 See, the growing Spanish town is undergoing a big transformation, building out a portion of the city to bring in over 60,000 new residents. City officials wanted to make naming the newly-developed streets a social event and asked the current residents to vote for their favorite street name themes in an online poll. Surprisingly (or not surprisingly?) enough, video games won. Now, a dozen streets in the developing area of Arcosur have classic video game names like "Avenida de Super Mario Bros," with others being dubbed with the likes of Space Invaders, Sonic The Hedgehog, and Legend of Zelda.
At a recent party celebrating the opening of the new streets, Mario himself made an appearance, while gaming fans, young and old, wore big mustaches to emulate their favorite plump plumber. "Ginger Super Mario Bros." Nope, definitely not a good porn name.